You want your employees to feel at home.  Not too much at home, mind you.  You don't want them to sit back with their feet up and relax all day long.  You want them to work hard, but you want them to be able to do so productively, without stress. A happy employee is a good employee.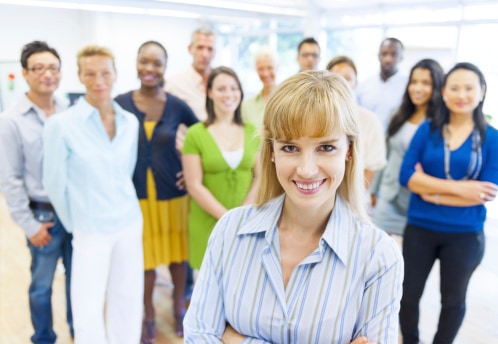 There is plenty of advice on how to make employees feel valued and how to forge a team from your employees.  There is also plenty of advice on how to make employees feel empowered, and how to welcome new employees.  These are all good and all help to make an employee feel happier, which makes management feel happier both for having made people happier and for making more profits.
Making Your Employees Feel At Home
If you make the workplace feel a little more like home, a little more like a place that matters personally to the employees, they will feel more vested in the company and they will look forward to their work day.  Here are seven tips that almost any company can easily implement at very little cost to make employees feel at home.
1. Employee Bulletin Board.
Put up a bulletin board where people can put up photos and notices.  This is a great way for people to share vacation photos, baby photos, notices of engagement, photos of the play or the game they were in, or even just family photos from the weekend barbecue.
In some offices, any expression of how much time or how good a time one has outside the office is looked down upon, as if it somehow detracts from how hard people work for the company. Remember in college when you probably lived by the slogan "Study hard, party hard"?  Encourage people to share with pride both their work and their personal accomplishments.
2. Creature comforts.
Adding small touches such as a coffee machine, an office water cooler, wet wipes in the washrooms, and a toothpick dispenser in the lunchroom will also make employees feel at home.
3. Casual Fridays.
Everybody likes to be able to dress down now and then.  Casual Fridays have proven very popular to put employees at ease.
4. Napping.
There is something unnatural about sitting in front of a screen all day or running around back and forth on one's feet all day. Work is tiring, especially when you don't get much of a break.  But drowsiness on the job costs businesses huge amounts of lost productivity that could be relieved with a simple nap sometime in the afternoon.
You can set up some rules to ensure productivity:
The dark room stays dark.
Hit the button on the way in to activate the "occupied" sign.
After 20 minutes, the alarm goes off and the employee leaves.
The room is available only certain hours (for instance, not in the morning).
5. On-site child care
A mother preoccupied with her children is not a productive mother.  If she knows they are safe and nearby, she can focus on her work.  Having the child on-site in good care brings work and home a little closer together, and often eliminates the need for her to leave the office to rush home to a young child who might be sick.
6. CEO walk throughs.
Nothing forges a team spirit and breaks down barriers to make employees feel at home, to feel like part of a family, like meeting the CEO.  He or she should take the time occasionally to walk through the shop, the stores, the office or wherever to meet with employees and talk with employees. 
This should not be a regularly scheduled event.  It should not be an inspection or feel like an inspection.  It should be, to the employee's eyes, spontaneous and unpredictable, even if it was scheduled months ago.  It should be simply a friendly visit, just to see how everything is going, to make sure employees know your door is open, to be able to be friendly and show you care.  In a big company, all executive level managers should be doing this.
7. Celebrate birthdays.
Everybody loves recognition, but not everybody will be recognized for their outstanding work. Celebrating employee birthdays is a great way to make sure every employee gets the spotlight at least once per year.
This article is written by Pat Feldman. He is a productivity consultant to small businesses on the verge of breaking out from the "small" part.  His chief focus is helping executives grow their business without losing the personal touch that made their small businesses so successful in the first place.