The annual observance of the International Day of Persons with Disabilities on 3 December, aims to promote an understanding of disability issues, the rights of persons with disabilities and gains to be derived from the integration of persons with disabilities in every aspect of the political, social, economic and cultural life of their communities.
The Day provides an opportunity to mobilize action to achieve the goal of full and equal enjoyment of human rights and participation in society by persons with disabilities, established by the World Programme of Action concerning Disabled Persons, adopted by the United Nations General Assembly in 1982 [via UN Enable].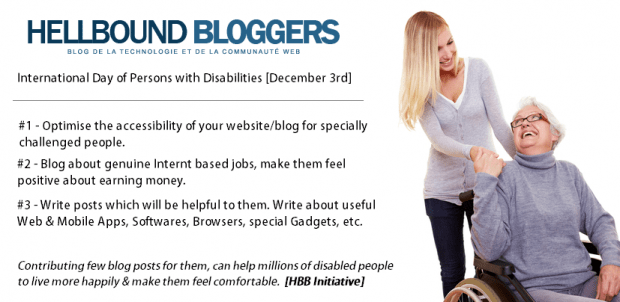 HBB Initiative's Contribution towards this day includes 10+ Special Browsers For Visually Impaired Users and 10+ Special Firefox Add-ons For Visually Impaired Users. We are also planning to post as many useful tools as possible, we have been requested and encouraged to do so.
We are also taking part on actions like teaching people how to use a screen reader (software application for visually challenged users) and easy ways to read the contents from a website/blog. Hope we are doing our part well. Really happy to do these contributions along with few online supporters.
---
How You Can Do Your Part — Very Easily
1. Build templates and themes which are friendly to them. Also you can have options like letting readers to listen to your blog posts or downloading them as .MP3.
2. Write an useful post which helps some people. Mention some Mobile Applications, Websites, Software or special kind of Gadgets useful to them.
3. Blog about genuine Internet Home Jobs. It will help them to feel positive about earning.
4. Write about shopping online and other such related tutorials, which help physically challenged people very much.
5. Donate some amount (depending upon your interest, indeed) to charities. You can easily donate online through PayPal.
"The only disability in life is a bad attitude." – Scott Hamilton
Posted in Public Interest for December 3rd, International Day of Persons with Disabilities