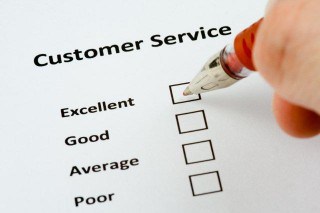 OK, your customer service approach probably isn't failing, or you wouldn't still be around. Since the most successful companies are always looking for ways to grow, chances are, you too have plenty of room for improvement. Here are four ways to get started re-building a customer service program that will turn first-time shoppers or even occasional browsers into loyal buyers. 
1. You Haven't Embraced Multiple Platforms
A third of of U.S. consumers, and 60 percent of 25 to 34-year-olds, use online platforms to voice their complaints after a bad service experience. Respond quickly, and you've got happy customers who will also use social media and review channels to spread the good word; fall short of their expectations, and you've got a bad reputation that will spread across the interwebs like wildfire.
Take Hertz, the car rental company, as an example: Once they implemented social customer service into their contact centers, they were able to manage four to eight times more interactions than just having phone support. For Internet-based services, setting up a straight-forward website and multiple modes of customer support is crucial. Instant Checkmate, for example, is an online background check service that offers customers three ways to cancel their subscriptions.
2. You're Ignoring Customer Feedback
As Steve Jobs said, a lot of times "people don't know what they want until you show it to them." That means it's up to you to come up with ideas, and then use customer feedback to learn how you can improve on what you've built. To prove this point, an MIT researcher analyzed 1,193 commercially successful innovations in nine different industries. Sixty percent of those innovations (737, to be exact) came from customer ideas. Why not ask for feedback from the people who actually want to use your product?
3. You're Not Giving Back
Norbert Schwarz conducted a landmark study in 1987 that nicely sums up why you need to give incentives to your customers. He found that just 10 cents was all it took to change the outlooks of participants who chanced upon the money. What and how much you offer isn't the point, Schwarz noted. "It's that something positive happened to you." So no matter the size of your company and your budget, you can afford to (or more importantly, you can't afford not to) give a little break to customers.
4. You Aren't Attracting Their Business
Your success rate is three to four times as high when you use your resources to attract "lost" customers, not just to fish for new ones. One store was facing the prospect of losing business to a bigger store opening up in the same parking lot. The small store was remodelled extensively to compete with the newer store, but in the confusion of remodelling, it lost 40 percent of its customers. To attract former regular shoppers, managers delivered a letter and special offers to thank them for their continued business. When hundreds still didn't return, management sent them handwritten invitations and gift cards. Then once the competing store opened, the small store sent its entire customer database numerous coupons for a multi-week sale period. The result: a sales increase of 6 to 7 percent during those months. Your campaign doesn't have to be so comprehensive, but it shows that a little extra effort toward the shoppers you already have can be a hugely effective sales tool.