Earlier Google introduced Video Chat feature in Google Talk and now it is time for another great, but common feature. Google finally added File transfer facility in Gmail chat.
Google says this feature is also compatible with the file transfer functionality in the Google Talk downloadable software. Now you can share files directly from the web with folks who use the desktop version.
Google introduced good features like inserting images and undo send in Gmail and now File Transfer.
How To Send A File In GTalk Or GMail Chat?
Go to Actions Menu | Send a File…
No download is required to access this feature. You can check the below image.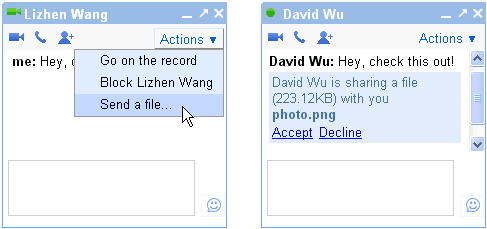 Image Credit : Official Google Talk Blog
Excerpts taken from Official Google Talk Blog,
"Have you ever wanted to quickly send a file to a friend whom you're chatting with online? Starting today, you can share photos, documents, and other files while chatting in iGoogle and orkut. "