Can Pictures talk? I guess it is not possible. But it can express something. But using this cool feature in Bubble Snaps, we can do more than that. All of us, I guess, like comics, the way one character's speech or chatter is express in the form of callouts. For imagination one type of callout and for shouting one type of callout. You think only Cartoonists and skilled artists do it. Think once again. This feature from Bubble Snaps creates you a picture similar to the comics style. Once character can express his/her imagination or speech through Callouts. You can let your pictures do the talking. This is the tagline of Bubble Snaps. You can use your wild imagination in this website and create interesting and creative images. You can check a demo picture created by me using Bubble Snaps !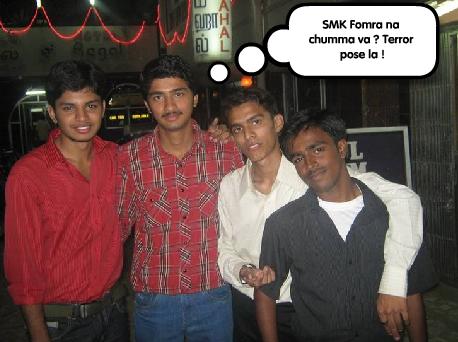 You can also create a similar picture and with more bubbles! Like Albert Einstein says, Imagination is more important than Knowledge. So extend your imagination to the maximum extent and create wild pictures.
How can I create a Similar Photo ?
Go to Bubble Snaps. If you are willing you can become a member and create one or continue without becoming. Creating a Bubble Snap involves three steps.
Step 1 : Upload Your Image
There are two ways to upload your image. You can directly upload your image from your computer or you can upload the images from your Flickr account. The images should be in JPEG format and let the resolution be around 640×480 pixels.  The smaller your image file size, the less time it will take you to upload it.
Step 2 : Add Your Bubble Captions
After uploading the Photo, you can insert the Bubble Captions wherever you want in the photos. There are two options for Bubbles. They are Think Bubble and Speak Bubble. After inserting your desired Bubble. Select the option "Finish".
Step 3 : Review and Send
After creating a Cool Bubble Snap, now it is time to own it. You have to enter your email address, if you are not a member. Then after that you will receive the photo in your mail. Feeling bored to do this? Then take a printscreen shot of it and paste it in MS Paint.:D You also have the option to blog that photo and send it to your friends.
So, why waiting, start creating funny Bubble Snaps! Let your imagination run wild! Check Bubble Snaps now.
Other Useful Online Free Tools For Creating Designs :
Create Twitter Mosaic Of Your Twitter Friends and Followers
HOW TO: Create Cool Photo Collages Online Easily
Create Beautiful Word Clouds using ImageChef