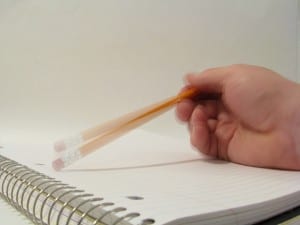 There are many people around the web who makes their living by writing and I'm another proud one among them. Sometimes I feel writing has been torturing me and I don't feel like writing at all. I'm also a busy human like others, I do have my personal life and when I come home ending up a busy day, nothing concerns me more than a good sleep.
I heard people often saying, "When you're tired, you must have rest. Don't write until you start feeling better". Everyone is ready to give a useless advice when others are struggling with something. They don't understand how pressure a writer feel when he has some work to do and he don't feel like doing.
I feel being tired is no less than a writers' block. All the time, I've been working for my paid writings, personal writings and managing my personal life (home, family, friends, bla-bla…) and it's quite difficult for me to get back into my shorts and sit in front of my computers for few more hours. Whenever I feel so, I turn complicated things into simple ones.
1. Save Heavy Parts for the next day
Writing for web isn't just a bunch of words, clients expect an SEO friendly, optimized, keyword rich in my article and I must satisfy theirs'. So to make your writing easier at such odd times, flag those parts which you feel difficult as To Do's for the next day.
2. Dig out the project of fun
Some of technical writings are serious by nature and work, while some others are fun to do. Suppose if you are going to publish an e-book or tutorial, you can work with the multimedia tools rather than editing your copyright and disclaimer.
3. Complete all the simple stuff
This part is followed by the previous one. When you've saved all the tough tasks for the next day, you're directly meant to complete the remaining simple parts on that very day.
4. Watch Your Intakes
I often see people, who feel & put themselves in a writers' block condition. Even they change their food habits at such conditions. But I suggest you to take a small lunch and please don't take too much coffee. The carbohydrates and caffeine in that can definitely affect your energy levels. Also drinking water regularly will help you to blog better.
5. Take a Walk
When you don't feel like writing at all, take a walk and have some fresh air to get your blood flowing and clear your brain.
6.Grab Your Headphones
Most of the people motivate themselves with music and so I. Put on your headphones and listen to your favorite numbers. You can also do this while writing. Personally, I am a great fan of Taylor Swift and I usually write hearing to her latest albums. If you have a Dropbox account, you can upload your favorite files there and play music from your Dropbox account or you can download some awesome MP3 Songs from Grooveshark.
7. Still Can't Work? Take a leave
If none of these works for you, then you should better take a leave or a short-term vacation. If you don't have enough time to go out for a vacation, you can at least do refreshing things of your type like I go for bike riding, golf course or watch a movie.
If you are interested in blogging and travelling, you can check these out :
35 Painful Mistakes Travel Bloggers Make (And How To Fix Them)
25 Great Online Tools for Travelers and Vacationers
This article is written by Koundeenya Dhulipalla. He is the owner of Ink Drops. If you wish to write for HBB, kindly check this.