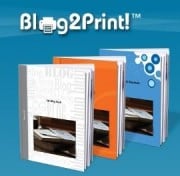 Your blog is something which you can't live without. Right? You can always enjoy your blog online, but considering the fact that online is not a big part, you can take your blog offline. If you are going to marry a female blogger, then this would be the perfect gift for her — Blog Book.
Wonder how? There is a perfect service for that. A program which lets you download onto your computer and allows you to upload your posts and pictures. I don't want to keep you in suspense, yes, we are talking about the service Blog2Print. If you want to print your blog into a quality offline book, you can use this service. First choose which blog platform you use, which includes Blogspot, Typepad or WordPress. Then type in the name of your blog and few more basic steps.
After doing all those things if you feel happy, then you can "Print" this hot book. This process consumes time depending on your blog posts.