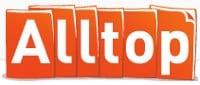 Alltop can be described as the "online magazine rack" of the web. It collects the headlines of the latest stories from the best sites and blogs that cover a topic.
They group these collections — "aggregations" — into individual web pages. It is a popular news aggregator kind of thing. Earlier HBB was featured on AllTop for several topics.
It is really simple to add your blog or website to AllTop, if it has good content with good posting frequency. Earlier it was difficult to get listed, now they are constantly approving all the entries I believe.
Go to AllTop Submissions, where you can easily suggest a site for AllTop. You need to fill a form in order to submit. Just make sure you fill all the boxes with relevant answers.
#1 AllTop Topic : There are lots of topics like Blogging, Tech, Photography, Sports and on. Search there and mention the relevant topics there. [Required]
#2 Site/Blog Name : Enter your website or blog name here. [Required]
#3 Site/Blog URL : Enter the full URL of your website or blog here. [Required]
#4 RSS Feed Address : This one is optional, AllTop normally picks the default Feed URL.
#5 Site/blog owner's name : The owner/administrator's name should be mentioned.
#6 Owner's Email Address : Enter the official or personal email address of the site owner here. AllTop will use this to contact the owner regarding the submission.
#7 Comments : If you like to say or mention anything related to your submission, you have 250 characters to do that.