Kingston Technology Company, Inc. launched the world's first 256 GB USB pen drive a.k.a. flash drive. The Kingston DataTraveler 300 has a capacity of 256GB. Now you can easily carry huge amount of data anywhere and anytime. You can store plenty of photos, videos and important data. It is very useful for making backups. This flash drive is ideal for notebooks users for extending their capacities. Security is also considered well in this flash drive.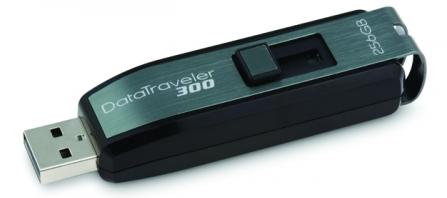 Now users can protect and safeguard their data by using Kingston's  Password Traveler Software which allows users to password protect their data in a privacy zone. It can protect up to 90% of its capacity. Kingston states that the 256GB of storage space is equal to 10 Blu-ray discs, 54 DVDs, or 365 CDs. The Kingston DataTraveler 300 is only available in 256GB. And the bad news for Indians is, this sleeky gadget is currently available in Far East, Europe, Middle East and Africa.
And another bad news is its cost. It costs about £565.67 which is around Rs.44976.
For people who think it is a rumor, check Kingston's site about DataTraveler 300.
Features and Specifications
Speed : 20 MB/second read and 10 MB/second write.
Security : Has Password Traveler Security Software (Windows)
Dimensions : 70.68 mm x 16.90 mm x 21.99 mm
Design : Lightweight,  Durable and sleek capless design
Enhanced : Windows Vista ReadyBoost
Guaranteed : Five-year warranty