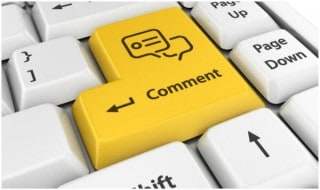 In this blogosphere thousands of new blogs are evolving everyday. It is obvious that there will be heavy competition between the bloggers who work hard to achieve good ranking to their blog. There are several ways to achieve a good ranking on the web. One of the interesting and proven way is Blog Commenting.
What Exactly Is Blog Commenting?
Blog commenting is a method of creating an identity by leaving relevant comments on the published posts of other blogs.
There are many advantages of blog commenting on other blogs. To mention, the main benefits are as follows:
1. Gain Identity
It is an initial step of growing a network of friends and followers. By leaving the details like Name, Email and URL, the fellow commenter as well as the blog admin will definitely have a look aty your blog.
You just need to drop a comment that is relevant to the blog post content. Never comment like 'Thanks for the share, Great info, Thanks for the useful post it helped me a lot, awesome post, etc..'
Do not use abusive language or any informal words that hurt or insult the other commentators. This will spoil your reputation. Instead you can criticize with negative comments.
2. Raise In Traffic
Leaving a comment by submitting your blog in the URL field will get a backlink to your blog. It doesn't matter whether it is a do-follow or no-follow, people are likely to check out your blog. The more visits you gain, the more traffic raise to your blog.
3. Improves Bonding
Comment section is the best place to increase healthy interaction between the blog admin and the other readers of that particular blog. Frequent interaction results in forming a rigid bond between them. This is very essential for growing and maintains a responsive network in the online world.
4. Improves Writing Skills
By frequent commenting you will get the ability to improve your writing skills by your own. In addition to that proficiency in English grammar will also increase. Writing lengthy comments will surely make you highlight from rest of the commentators.
5. Expands Your Knowledge
If you are ready to write a comment on any blog post, firstly you should need to read that particular post. Everyone must accept that reading makes our knowledge widen.
6. Growth of Following in Social Media
We often observe most of the blogs use CommentLuv plugin, KeywordLuv plugin and some even uses social commenting integration support to the comment system. By commenting on those kind of sites, we can project our social network profiles too and grow some handsome subscribers.
7. Earn by Comment Services
Do you have good skills in commenting? Then you fill your pockets with some bucks. Yeah, what you heard is a fact. There are several companies which offer commenting services. They are ready to pay in monthly basis or pay per comment basis.
8. Link Building
And here comes the most interesting part. Whenever you leave a comment with your blog URL, a backlink points out to your blog. If the link is do-follow you are damn lucky. You will have the maximum chances of getting a good PageRank.
Conclusion
Blog commenting not only helps in gaining the above mentioned advantages but also helps in knowing what exactly is going on in the web world.
Last but not the least – 'Blog commenting is an art, try it and do it but never spam it'.