To receive daily updates, you can subscribe to our free newsletter. We won't spam our subscribers. We are against spamming ! If you are thinking whether to subscribe or not, then you can check the 8 Real Reasons For Subscribing Here.
If you are not satisfied with the newsletter, you can always unsubscribe ! But please mail me the reason for it, so that we can improve further more !

Share your thoughts in comments area under each story on our website.
Available Subscription Options On HellBound Bloggers
Subscribe via RSS : You can subscribe via RSS (Really Simple Syndication) for getting daily content updates in My Yahoo!, Newsgator, Bloglines, and other news readers. We use FeedBurner. [Recommended]
Subscribe via Email : You can subscribe via Email to HellBound Bloggers and we won't spam you. We use FeedBurner.
Subscribe via FriendFeed : I'm also active in FriendFeed for networking. You can subscribe via FriendFeed for receiving updates from various sources.
Subscribe to Comments : Leave a tick mark near "Notify me of followup comments via e-mail" below the comment form of your desired article, then you will get e-mail notification of further comments.
How To Subscribe via Email?
Subscribing via Email is the most comfortable and convenient way. You can subscribe via Email easily using this link. Subscription is free. You don't need to spend a dime.
After clicking that link, you'll see a window like this :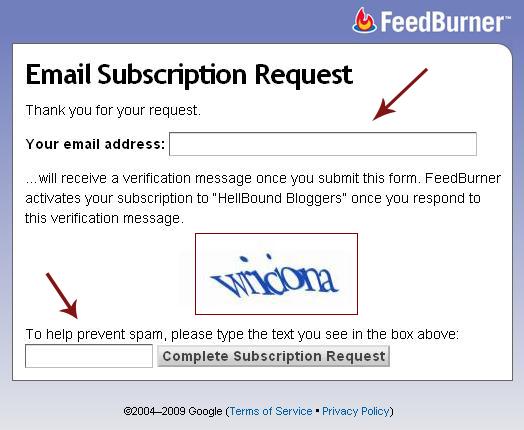 Then, enter a legitimate and active email address. After finishing that, enter the CAPTCHA as it is displayed. It is quite normal when your CAPTCHA gets wrong first time. Don't lose hope, again enter it. See, it works right?
Now click Complete Subscription Request button. Now you will see this window.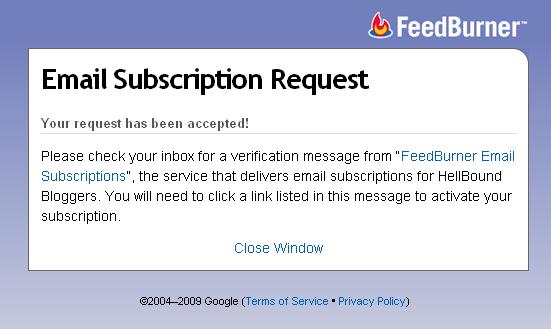 That's all, subscription process is almost over. Now quickly open your Email Inbox and verify your email address. Due to some reasons, it might also be in SPAM queue. So please also look there if it is not in Inbox.
You will see a link in the mail from FeedBurner, click it to activate. Now you will see this window.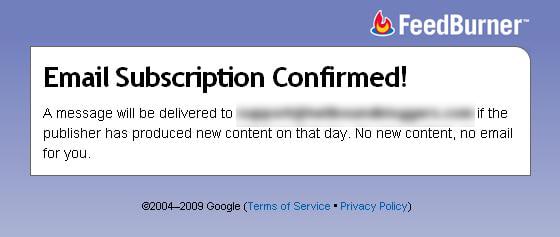 Congrats, now you have successfully subscribed to HellBound Bloggers (HBB).
Remember, you can always easily unsubscribe within seconds, if you wish. That means if you don't like my articles!

I update this blog on a daily basis only. So you'll only receive one Email every day. If you have any difficultly in the subscription process, feel free to contact me.