When we browse the webs, often some vivid animated ads pop up automatically. Though it can be annoying, there is no doubt that it is a creative way to advertise. But do you know that those animated ads are most in Flash SWF format? Flash SWF format is widely used for displaying "animated" vector graphics on the Web. It may be used for programs and browser games. So, those humorous and funny animations you've downloaded from popular video sharing webs like YouTube are probably SWF files. Anyway, as an Adobe Flash file format, SWF is under the control of Adobe. Therefore, it is not so easy to playback SWF files on portable devices since Adobe killed off support on Android and it is not going to support iOS too.
However, we got iOrgSoft SWF Converter for Mac, which provides one of the easiest ways is to convert SWF file to other common formats that are friendlier to your devices. For example, it is a good idea to convert SWF to MP4 since MP4 is well supported by most devices.
Note: Now the application is under a Promotion discount: SWF Converter for Windows is 50% off and the Mac SWF Converter is 30% off.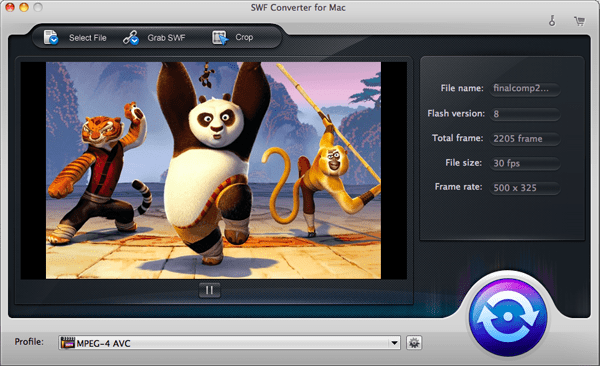 IOrgSoft SWF Converter is a useful video conversion tool especially for SWF to video, audio and image format. Easily, it can convert SWF to various video formats including 3G2, 3GP (H.263), ASF, AVI (XviD,Divx), DivX, FLV, MKV (H.264, MPEG-2), MOV (Quicktime, Prores, H.264), MP4 (MPEG-4, H.264), MPG (MPEG-1, MPEG-2) etc; to audio formats like AAC, AC3, AIFF, FLAC, MP3, WAV; to image format such as JPG, PNG, GIF. It is just because it supports such broad range of output formats, it does a great favor to transfer SWF contents to popular portable devices, applications and media players like iPad, iPod, iPhone, PSP, Nexus, Kindle Fire, Samsung Galaxy S4/S3, Note 8/2, HTC, iMovie, FCP, Adobe Premiere, Sony Vegas, Keynote, etc.
In addition, the application enables you to do simple editing work to SWF files. Users can remove the unwanted part like the black edges of SWF file using Crop feature. And to protect copyright or to make the file more remarkable, users can watermark it. If you just want to edit it not convert it, you can just choose SWF as output format after editing.
Moreover, the iOrgSoft Converter can play a role as a recorder. If the imported SWF file is a game that can be played with mouse or keyboard, users can play it during conversion. The process will be recorded and converted at the same time. So, with it, users can easily make a game tutorial.
Besides, the application supports adjust output setting, which means you can select satisfying Bit Rate, Frame Rate, Resolution, Sample Rate, and Channel. By the way, video Resolution can be customized up to 2000*2000.
This iOrgSoft SWF Converter features a very simple and intuitive user interface which requires less technical knowledge to operate and makes this task a breeze. It is just the right video converter that helps you deal with SWF files with ease.
Want to discuss your queries and interact with experts? You can connect with HellBound Bloggers (HBB) Facebook group for free!
On August 7, 2013 by Ram kumar in Desktop Apps | Short Link: http://hbb.me/1cIjVK6