Going from one time zone to the next is constantly changing with the daylight savings that some people subscribe to, but others do not. That makes time zones continually difficult to gauge, which makes it hard to do business or conduct personal affairs. This free timezone converter can help you to track the time in other zones where you might be meeting someone, traveling, or just speaking to someone on the phone. In this globalized world, it is important to have the most up-to-date about the time zones that you are in and corresponding with.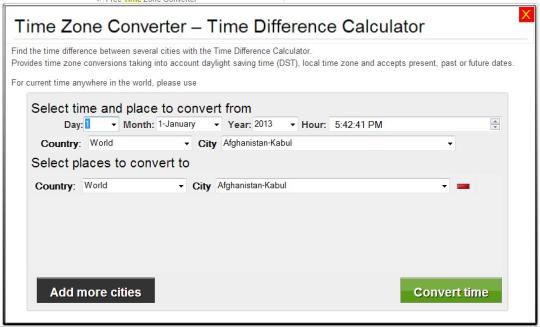 Compared to other software, this free timezone converter is a price that can't be beat. More importantly, it is dedicated primarily to providing high quality in this specific field, which means that you will get the right information without being incredibly savvy. With a few clicks, you should know exactly what time it is in other zones.
If you found an error in this post, kindly highlight it & press Shift + Enter or click here to inform us.
Want to discuss your queries and interact with experts? You can connect with HellBound Bloggers (HBB) Facebook group for free!
On July 4, 2013 by Ram kumar in Desktop Apps | Short Link: http://hbb.me/1b9OiZk