Ever thought about how funny it would be to create your own memes with your wit and humor? There is no need to fantasize about this anymore. This free meme creator can allow you to get all of the fun out of memes with your own creativity. There are plenty of people who produce great memes on the internet that you might find on Reddit, on Facebook, or many other locations. Instead of relying on them to create memes, you can create your own!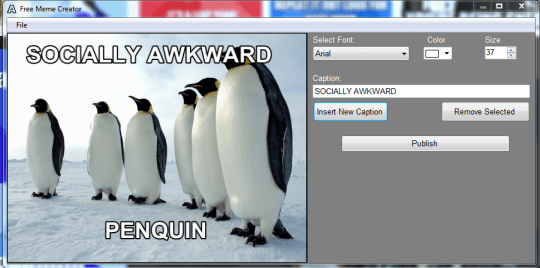 Better yet, it is possible to create memes with this free meme maker with only a few clicks. No need to spend countless hours creating your own when this free software will allow you to do it in a fraction of the time. It is free, which makes it a perfect tool for having fun on a budget!
If you found an error in this post, kindly highlight it & press Shift + Enter or click here to inform us.
Want to discuss your queries and interact with experts? You can connect with HellBound Bloggers (HBB) Facebook group for free!
On May 25, 2013 by Ram kumar in Desktop Apps | Short Link: http://hbb.me/10TDPZq