How many of you are looking for a quality VPN service? If you are then I have one good suggestion to make use of Kepard.
Their VPN Services provide lot of features and benefits to users in the form of IP security, Data Encryption as well as accessing Blocked sites. You can easily secure your Internet connection and protect your data from hackers. You can also protect your identity by staying anonymous. You can see the detailed review below.
Why would you want a VPN service?
Security
With the help of Virtual Private Network, you will be able to keep your IP Address safe from the outside world by not revealing it. To let you know, whenever you visit a website on the internet your IP Address can be recorded and if its in bad hands the results can be really worse. If you choose a VPN service, their Servers IP Address will only be revealed to the websites you visit and not your IP address which help you stay secure.
Access Restricted Content
There is massive filtering based on countries where you use, like BBC UK which cannot be accessed outside UK. Likewise many websites may be available only to countries like USA. You can use a VPN and change your locality to US. Some countries even Block websites, you may not be aware that HBB is restricted in UAE for some unknown reason. But one can access it by having a VPN from some other country other than UAE like Kepard has for USA, Canada and UK.
Inefficient Proxy Websites
There are tons of proxy website which boost to help you stay anonymous but they are either very slow or inefficient. When you choose a good VPN service like Kepard you will not experience drops in Browsing speeds.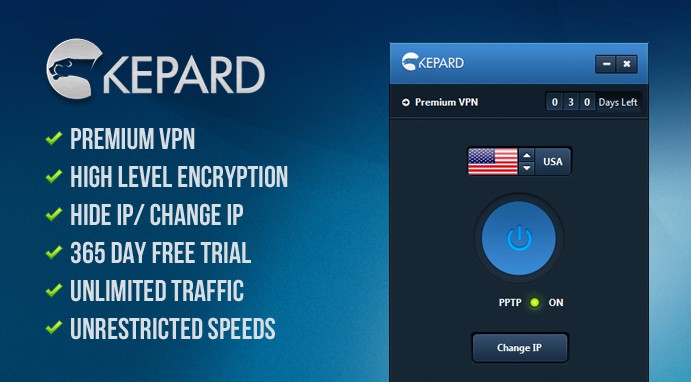 Why should you choose KepardVPN?
Kepard VPN service helps you stay anonymous on the web and also securely transmit data with standard encryption on it. Kepard supports 256-bit encryption which is the same bit support in AES algorithm and it is very difficult to break in at all. Kepard VPN servers are currently available in the following locations:
United States of America
United Kingdom
Canada
Germany
Netherland
Having VPN in these countries will allow you to access local sites like BBC Videos with an UK VPN and Hulu, Netflix, FOX with USA VPN which may not be available in your residing country. This is one of the major reasons why customer from Home also buys it.
Let's have a look at some more features of Kepard.
No Big Drops in Browsing Speed
When you are going to access sites from a server then you are bound to have drops in browsing speed but it can be worse if the performance of Sever is low. This is one good thing about Kepard that there is not much drops in browsing speed but if the traffic is really high on the servers then you may expect drops in it, you can tackle that by choosing a different server from Kepard. Choosing a different server IP should help you browse the web efficiently.
I have a 2 Mbps connection and you can see the browsing speed on different servers.
Normal Speed
Kepard VPN UK Speed
Kepard VPN US Speed
User Interface
There isn't much complexities in the User Interface and any user with zero Technical knowledge can access it. With mostly buttons in it, the UI is really simple and powerful to help work out the complete VPN functionalities.
Encryption
Kepard encrypts your entire Internet traffic by using trusted secure protocols, such as L2TP/IPsec protocol. 256-Bit encryption is a high level encryption enough to keep your data secured.
Use Torrents and P2P
Many VPN services do not provide Torrents and P2P Support but that is not the case with Kepard. They give your unrestricted speed and thus they do not have any reason to restrict (torrents and P2P is allowed only on Netherlands servers) Torrents and other P2P like some of their competitors.
Referral Program
You can also have 6 moths of free Kepard VPN service if you refer some of your friends to Kepard. You can have more information here on the referral program.
Data Logging
This can't be said as a negative but Kepard does keep your data for 3 days just for troubleshooting any problems that you may face. After 3 days the data is automatically deleted.
---
Exclusive Kepard VPN Giveaway
Just follow @SPradeepKr on Twitter and Retweet this post. Then comment below.
Kepard allocated HBB readers 10 exclusive keys for 3 months. So I need to pick the 10 lucky winners randomly. I'll be using Random.org or any other Online List Randomizers. To get quick updates about Contests and Giveaways, you can subscribe to our RSS Feeds.
P.S. Comment here with the Tweet Status to get the invites. This Giveaway will be closed within 20 days.
---
Kepard VPN Giveaway Ended – Winners Announced!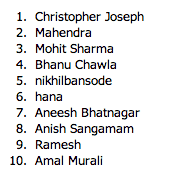 We thank all the participants for their participation, but still we are limited to pick only 10 winners so we picked them randomly using random.org, we'll be conducting many giveaways soon and you can surely win them.
The names mentioned in the picture left are the winners, congrats! Sorry for delaying this Giveaway we had troubles with our site for the past few weeks, now it is fixed gladly. We'll use the email addresses you mentioned while commenting to send you the licenses. We'll forward the details to the Kepard team and they'll send you the licenses accordingly. Thanks for participating.
Want to discuss your queries and interact with experts? You can connect with HellBound Bloggers (HBB) Facebook group for free!
On October 16, 2012 by Ram kumar in Desktop Apps, Featured | Short Link: http://hbb.me/Y7ePMA