First, let me tell you what is meant by Royalty-free. When you are willing to use someone's image on your blog or any project, you should obviously pay for that, and we call that as "Royalty". Thus comes the word "Royalty-free" or "Royalty-free images".
DepositPhotos is such a popular site in that niche. It is a popular portal for buying and selling Royalty-free photographs and vector images. Their vast library of imagestock coupled with their wide variety of flexible purchase options makes us the most convenient and profitable tool for designers, artists and photographers. You can sign up using Facebook here.
If you are a designer or blogger looking to buy images for a project or if you are a photographer selling your stock, then working with DepositPhotos makes it as easy as possible. Their low, low pricing and flexible purchase plans make it easy to buy exactly what you need instead of just what you can afford, and their generous commission structures give their contributors enormous earning potential. Their business strategy is awesome.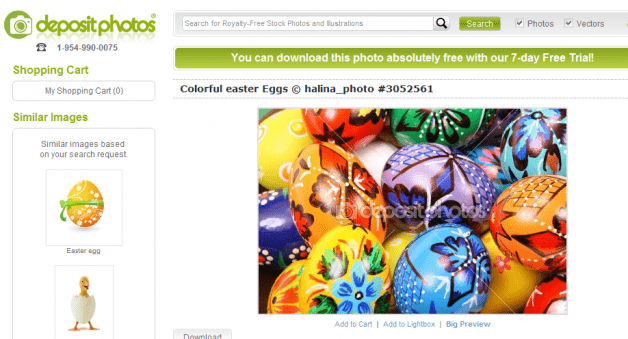 User Friendly Interface
I really loved their interface, it is like targeting the audience at first glance, a simple and straight-forward interface. It has an exclusive search bar for finding all sorts of images and their categories like photos, vector images, and videos. The search results are arranged in a friendly manner, I liked it a lot. They also have Advanced Search options, where you can search photos by category and contributor. You can also exclude some keywords and search there.
Special Offer for Bloggers
If you own a blog and are looking for some fresh new images, or are willing to hold a contest that offers real prizes, they want to be your sponsor. That means they can provide temporary subscriptions to their site, which offers free downloads of high-quality images. For that you can write reviews about Depositphotos, give relevant photo credits and you can also write about their offers.
There is a free subscription for bloggers and you should check it out. We both get the benefits here, you increase the popularity of your site/blog, and they get a chance to tell potential clients about our unique offerings. You can also make money with them using their Affiliate programs.
USEFUL RESOURCES :
Depositphotos also has some photos for free and that will be useful for your blog posts and other projects.
Want to discuss your queries and interact with experts? You can connect with HellBound Bloggers (HBB) Facebook group for free!
On April 20, 2011 by Ram kumar in Websites | Short Link: http://hbb.me/13zGnD8